Travel Cross by Carry Your Cross Ministries
How often are you in your sanctuary, in the presence of the sacred cross? For most of us, we probably worship in the sanctuary once or twice a week, but do our ministry elsewhere. We are on the go, ministering here and there, in classrooms and homes, at camps and hotels, beyond our neighborhoods and even our country. Carry Your Cross Ministries has created the ultimate ministry tool - a handmade, folding cross packed in a durable bag for portability. This custom-designed, six-foot "Travel Cross" is a must for every retreat and conference.
Constructed of sturdy 2x4 stained wood
Extends to 80" and folds to a compact 40"
High quality duffle carry bag with sturdy handles allows room for
Travel Cross & other accessories (valued at $49.95)
Beautiful crimson scarf for draping included
Touch up stain pen
A beautiful compliment to conference rooms or retreat prayer rooms
Fits easily in vehicle for transport
Easy to store
$119.99 ea. + $25.00 S&H (for addresses in USA)
Please allow 2 - 4 weeks for delivery
All prices & shipping costs are in US dollars. For international shipping costs, contact SharonHill@OnCallPrayer.org.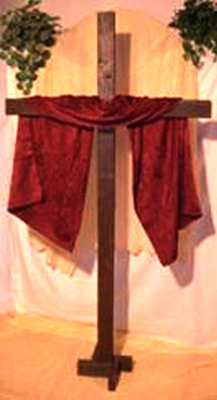 Download Order Form